Emilio's Pasta Sauce
The theme here is Italian. There are two parts to this meal. Part one is making the sauce. This can be done two to three days ahead. Then just reheat it in the microwave or stove. Also, don't worry about making too much. If you do, just divide it into portions and keep refrigerated for up to 5 days or freeze. It is excellent over rice, baked potatoes, pizza, flat-breads, etc.

THE MEAT SAUCE (Emilio's Meat Sauce)
½ lb of ground pork
½ lb of lean ground beef (I like to use Bison)
1 package of Baby Bella mushrooms (optional)
½ cup of diced celery
1 cup of diced onions (sweet, yellow or white)
1 large tomato diced
4 garlic heads diced
Fresh oregano and thyme. Dry herbs will also work about a tablespoon of each or 2 tablespoons of dry Italian herbs
1 32 oz can of diced tomatoes
1 small can of tomato paste or large can of tomato sauce
¼ cup of olive oil
1 bay leaf
1 teaspoon of smoked paprika
1 teaspoon of cayenne pepper (use 1 tablespoon if you like very spicy)
Grated Pecorino or Parmesan cheese. (I prefer Pecorino, but Parmesan will do)
Bottle of white wine (our Ceres or Albariño works great)
Coarse salt and pepper
In a Dutch oven or large pot, add the olive oil and heat on medium for about 1 minute. Add the onions and celery. Add a pinch of salt and pepper. A pinch volume depends on the size of your fingers. For me, a pinch is about a tablespoon. Cook until almost translucent. Add the garlic and the diced tomato. Depending on the stove you have, it should take about 8 minutes, but don't let it burn. Add ½ cup of the wine and reduce the liquid by 2/3. Take all the ingredients out of the pot and set aside. We are going to call this mixture, Sofrito.


Add the pork and beef to the pot. Cook until meat is almost done. Remove to plate using a slotted spoon. Drain any fat from the pan and return the pot to the stove. Add the meat, the Sofrito, the can of diced tomatoes, herbs, bay leaf, cayenne pepper, tomato paste, 1 cup of white wine, and paprika to the pot. Note that I added Baby Bella mushrooms. This is optional! Stir it all together. At this point, have a glass of wine. You have done well. Bring all the ingredients to almost the boiling point stirring continuously. When you see bubbles forming on the sauce, reduce the heat to simmer. Taste the sauce. If it needs more heat or salt, add appropriate amounts according to your taste. Simmer all ingredients for 1 hr. The sauce is done! Have another glass of wine. You earned it.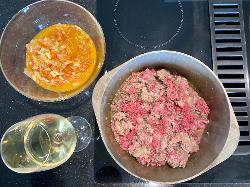 THE PASTA

Some of you will probably take this to another level by making fresh pasta. Go ahead; I don't have the time. What pasta should you buy or make? Any pasta that you like. I love Pappardelle. About ½ hr or so before the meal cook the pasta according to the package's instructions. Adda generous amount of salt to the water you are using to cook the pasta. Reheat the sauce you made earlier. Place the pasta on a plate or bowl when done. Add a little extra virgin olive oil to the pasta. Add a generous amount of the meat sauce, sprinkle whatever amount of grated cheese you like, and add some basil leaves on top. Grind a little pepper on top of it, and it is time to eat. A bottle of Montepulciano is a perfect pairing.