Emilio's Chicken & Rice
This is my mother's basic Chicken & Rice recipe (Arroz con Pollo), which she adjusts depending on her mood and what she has on hand. For instance, she might substitute chipotle chile powder or red chile powder for the paprika depending on how she feels. She never used saffron in our arroz con pollo, but many people do. You can also add chopped bell peppers (cook with the onions) or peas (mix in at the end). It's an easy, stove-top, one pan dish, great for family meals.
Ingredients
2 cups of diced tomatoes
2 cups of diced onions
2 chicken breasts cut in large chunks. You may also add thighs and legs if you like them
6 garlic cloves diced
4 tablespoons of olive oil
1 cup (or 2 if you wish) of rice. I prefer Texmati but any rice will do
Chicken stock. The amounts depend on the type of rice. Example, for Texmati rice, 2 cups of chicken stock will be enough for 1 cup of rice. Read the instructions in the package for the right amount of liquid
½ cup of white wine
Salt
1 tablespoon of Turmeric (or a few threads of saffron if you have it)
The secret ingredient: 1 square of Knorr Chicken Bouillon (any chicken Bouillion will work)
1 teaspoon of chili powder
½ teaspoon of smoke paprika
Pimentos sliced or piquillo peppers sliced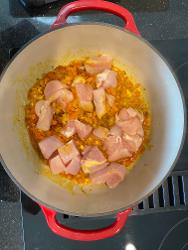 In a skillet or Dutch oven, add the olive oil and turn to medium. When the oil is hot, add the onions and sauté for 3 minutes.
Add a pinch of salt (about a tablespoon). Add the tomatoes and garlic.
Cook for another minute. Add the chicken the chicken Bouillon, Turmeric, chili powder and paprika.
Stir constantly for about 3 minutes. Add the wine and cook until liquid is reduced by ¾ of volume.
Add the rice and mix well. Add the chicken stock required for the type of rice you are using.
Add two teaspoons of salt. Bring to a boil and then quickly, turn the heat to simmer.
Cover pot and simmer until all liquid is almost absorbed. Add the pimentos or piquillo peppers and cook until all liquid is absorbed. You may also add peas and a little parsley if you wish. Turn heat off and leave pot covered for about 5 minutes.
Served with a nice glass of Sparkling Rose.