Lamb Osso Bucco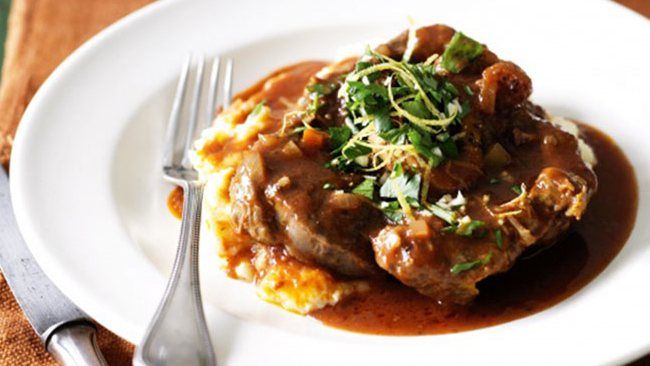 Traditionally, Osso Bucco is made with veal shanks and served with risotto as the traditional side dish. This is a delicious version using lamb shanks. During my time in Tuscany I became to appreciate the relationship between the local farmers and their sheep. No, this is not a deranged statement! It is that I watched as the shepherds knew each sheep by name and would talk to them as they walked to the pasture. Each farmer knew everything about his/her flock; what ailed each of the animals; which pasture they would prefer to graze on and it was almost as a parent-child relationship. You see, they believe that a loved animal not only would have a better life but also will provide better nurture to its owner when it came time to harvest such noble animal. They were not industrialized, or kept in unsanitary conditions, they were not deprived of sunlight or the beauty of life. They were loved and care for as part of the family for everyone knew (animal and shepherd) that some day, the shepherd's family will need the sheep to survive. If you have never had a lamb chop from a loved animal then you have not lived yet!
Category : From the Land
2 lamb shanks (2 pounds total)
2 tablespoons olive oil
1 large onion, chopped
2 medium carrots, chopped
2 celery ribs, chopped
3 garlic cloves, thinly sliced
16 oz of beef broth
750 ml of white wine
1 (14-ounces) can diced tomatoes in juice
2 rosemary sprigs
1 cup dried navy beans, picked over
Garnish: chopped flat-leaf parsley; extra-virgin olive oil for drizzling
Pat lamb shanks dry and season with coarse salt and pepper to taste. Heat oil in Dutch oven or large pot over medium-high heat until it shimmers, then brown shanks well, 1 or 2 at a time, transferring to a plate.
Add onion, carrots, celery, and garlic to pot and sauté until golden brown, about 6 minutes. Add tomatoes with juice and rosemary and cook, stirring, 1 minute. Stir in beans, wine, and beef broth. Add 1 teaspoon of fresh crushed pepper. Cook on medium for 10 minutes. Taste liquid carefully and add salt to taste.
Return lamb shanks to pot and bring to a boil. Reduce heat to simmer, cover pot and cook until shanks and beans are tender about 1 ½ hours. Transfer shanks to a cutting board and coarsely shred meat. Spoon bean and vegetable mixture into large shallow bowls, then top with lamb and sauce.
Wine Pairing: Any of San Martiño Winery light reds